Boshart yard hydrants have loads of incredible features that make them an excellent choice for all water movement businesses. Over the years, we have received positive feedback about how to improve our yard hydrants and make them even better.
In this blog, we will take a look at the 10 improvements that we have made to our yard hydrants. If you want to take a look at the 10 features that have stayed the same, check back for out blog, 10 Features to Look For in Boshart Yard Hydrants.
What is a Yard Hydrant?
Yard hydrants are a non-freeze valve that helps provide water all year round. Yard hydrants are used in a variety of applications including farms, campgrounds, and rural residences.
Boshart's 10 Yard Hydrant Improvements
Head Casting Changes
1. Head Casting Elongated
The head casting was re-designed and made longer to extend the hex below the locking pad. This allows for an easier grip of the head casting in any position for servicing when the plunger needs replaced.
2. Custom Machining for a Deeper Thread
With the extension of the head casting, it provides an additional benefit that allows custom machining for a deeper thread in the head casting. This encases the entire standpipe thread so that no bare threads are left exposed to the elements, eliminating rusting and corrosion issues.
3. Colour & Markings
The colour and markings have been changed to not only reflect Boshart's new colours but to allow for easy identification of the new 7/8" plunger yard hydrant.

Valve Body Changes
4. Two Flow Channels
All valve bodies are now equipped with two large flow channels that are available in both no lead bronze and the new grade 304 stainless steel. The valve bodies include a 7/8" plunger, but the port size remains the same as the original YHP series yard hydrant.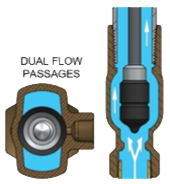 The flow rate of the new yard hydrants provide more flow capacity than required and they will be assembled using a stainless steel valve body, standpipe, long connecting rod, hex coupling, and polished operating rod.
The new stainless steel yard hydrant is an excellent choice for areas where aggressive soil or water is found.
5. No Exposed Standpipe Threads
Where the buried valve body and standpipe connect will have no exposed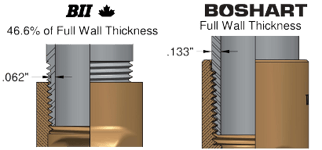 standpipe threads. Usually, yard hydrants engage 3.5 - 5 threads into the valve body, leaving any remaining threads exposed to the soil. The thin wall cross-section of the standpipe is then exposed to accelerated corrosion.
Now, all Boshart yard hydrants will have precision machined valve bodies that will engage the full thread length into the valve body, leaving only the full wall section of the standpipe exposed.
6. All Yard Hydrants will Include a 7/8" Diameter Plunger
We have heard many comments about yard hydrants that have been in service for many years having plungers that become stuck in the standpipe when attempting to remove it for replacement. This can also mean that in some cases, the rubber could tear from the stainless steel plunger core, causing corrosion.
Boshart recognized this was a great time to make a change for the better. The valve body has now been changed to 7/8" from 1". The reduction of the valve body bore from 1" to 7/8" has increased the clearance from 0.021" to 0.88" around the entire circumference which is a 319% increase in clearance.
7. 3/4" FPT Inlet Connection
The valve bodies will now only be available with a 3/4" FPT inlet connection. The 3/4" and 1" high capacity valve bodies have now been discontinued. After the change was made to the 7/8" bore valve body, the 7/8" diameter plunger provides more than enough flow and outperforms the yard hydrants that were evaluated.
The majority of water pumps will only supply around 7-10 GPM. The old YHBR & YHSS hydrants that included a 3/4" FPT connection are capable of supplying 44.2 GPM which is beyond the velocity at which water is to travel through a pipe system.
The below chart shows that a 1" supply line should only be used to supply 15-20 GPM maximum.

Note: There is still a benefit in running a larger diameter line for transferring water long distances as the friction loss will be less. It does make the most sense to make the service line reduction at the yard hydrant using a hydrant elbow or tee with a 3/4" MPT connection.
Hex Coupling & Connecting Rod Changes
8. New YHBR & YHSS Series
Original YHP to YHBR Series
Hex coupling upgraded from zinc plated coupling to 304SS coupling
Connecting rod has been upgraded from black steel to zinc plated steel
Standpipe remains the same (1" sch.40 galvanized)
Original YHPCR to YHSS
Hex coupling has been upgraded from zinc plated coupling to 304SS coupling
Connecting rod has been upgraded from black steel to 304SS
Standpipe remains the same (1" sch.40 304SS)
Original YHPCRSS to YHSS
Hex coupling remains the same (304SS)
Connecting rod remains the same (304SS)
Standpipe remains the same (1" sch.40 304SS)


Instruction/ Accessory Changes
9. 1/8" Street Elbow
A request we received was to include a 1/8" street elbow for the drain port connection in the installation instruction kit, which also contains the SS flow position lock thumb bolt.
10. Installation Instructions Updated
The installation instructions have been upgraded to direct people to our Knowledge Base articles where we go into detail about installation, adjustments, repairs, and plunger replacements. There is also detailed information on what replacement parts are available.
In Summary:
Boshart has made many positive changes to our yard hydrants based off of comments and suggestions that we have received over the years. Despite these upgrades, we have maintained all of the great features original to our yard hydrants that our customers have known to love over the years we've made this product.
To read about what great features we have kept in the newly designed yard hydrants, check out our blog, 10 Features to Look For in Boshart Yard Hydrants.
Have further questions about this subject?


Head over to Boshart's Knowledge Base: technical product information, guidelines, and more.