Stainless steel is a versatile material that is used in many different applications. The two most common types of stainless steel are austenitic which is highly corrosion resistant and ferritic which is magnetic.
In this blog, we are going to break down the basics of what austenitic stainless steel is, the key benefits it provides and where the uses of stainless steel fittings can be most beneficial.
Stainless Steel
All steels have the same basic iron and carbon composition along with nickel, but stainless steel also contains chromium - the alloy that gives stainless steel its well-known corrosion resistance.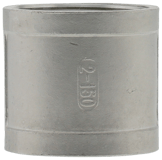 Austenitic stainless steel contains high levels of chromium and nickel and low levels of carbon providing a balance of strength, workability and corrosion resistance. The standard stainless steel alloys used in plumbing applications contains between 18-20% chromium and 8-12% nickel, as well as small amounts of carbon 0.08% and manganese 2%. Austenitic stainless steel has the highest corrosion resistance and are the most commonly used type of stainless steel around the world.
Benefits of Stainless Steel Fittings
Stainless steel offers a wide range of benefits to the architect and designer of plumbing systems which are:
Material Benefits

Environmental Benefits

Economic Benefits
Material Benefits
The combining of corrosion resistance with high strength allows the reduction in wall thickness and weight. Stainless steel is resistant to heat and chemical damage. It can withstand very high flow rates - in excess of 40m/s, making it capable to withstand long-term exposure to the elements in almost any environment.
Environmental Benefits
Stainless steel can be used in all types of water, including drinking water in public supply. It has an excellent resistance to the full range of potable waters, including various chloride levels. At the end of its useful life, stainless steel is fully recyclable and retains a higher residual scrap value than ordinary steel.
Economic Benefits
Stainless steel is low maintenance and requires no additional coating, in both indoor and outdoor applications. The expected lifespan of a stainless steel system is more than 50 years, reducing system down time, replacement and maintenance costs over the life of the installation.
Stainless Steel Fitting Applications
With all the benefits that come with stainless steel there are equally just as many applications where these fittings can be utilized. Here are some key beneficial areas:
Residential & Commercial water systems that are subject to various stresses.
Commercial & Industrial piping systems that are needing to perform well under the toughest and harshest conditions.
Industrial Projects for sanitary or highly corrosive applications.
In Summary:
There are a variety of stainless steel fittings on the market, the most common ones are bushings, caps, couplings, crosses, elbows, locknut, plugs, tees, unions and valves. The most commonly used grades are 304 and 316, both are available in a heavy and light pattern option and with a vast size range.
No matter the plumbing situation, there is a stainless steel fitting for the job.
Have further questions about this subject?
Head over to Boshart's Knowledge Base: technical product information, guidelines, and more.