What is polybutylene and why is it no longer used? For a short time, polybutylene was a popular plastic piping material used for water supply. At first, polybutylene was presented as a good substitute for copper until the plastic was found to fail and cause leaks.
In this blog post, we will look at the issues with polybutylene and go over how to identify the plastic. Then, we will discuss repairing and transitioning from existing polybutylene to approved piping systems.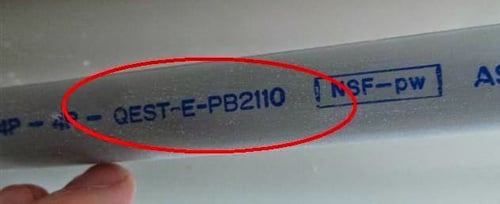 Image taken from http://jshomeinspect.blogspot.com/2015/01/pb-versus-pex-piping.html
From 1975 to 1995, polybutylene was often used in residential plumbing systems to replace traditional copper piping. This plastic pipe was often called the "pipe of the future" because it was inexpensive to manufacture, flexible and easy to install.
What are t
he issues with polybutylene
?
In 1996, polybutylene manufacturing abruptly stopped due to reports that polybutylene pipes were bursting and causing damage to properties. In the 1980's and 1990's, many lawsuits and a class action settlement were filed over polybutylene pipes.
The University of Illinois at Chicago published a study on polybutylene. The study showed that certain chemicals in water, such as chlorine, can react with polybutylene piping and cause the fittings to become brittle, flake apart and erode. According to the published paper, these small cracks can become deeper, get worse over time and eventually cause a fracture so deep that water can escape.
To date, there are no regulations that require replacing polybutylene piping with other types of pipe, but some insurance companies will insist on a complete replacement, charge a higher premium or simply refuse to insure. In addition, since deterioration happens inside the pipe, it is not possible to test the weakness of polybutylene. Therefore, since leaks can happen unexpectedly and cause extensive damage to property, many plumbers recommend being proactive and making the switch.
How
do you
identify polybutylene pipe
?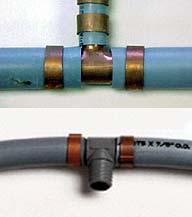 Polybutylene pipe is typically grey, but it can also be blue, black, white or silver. Polybutylene pipes are usually 1/2" or 1" in diameter and marked with the code "PB2110." Inside the house, polybutylene piping is typically grey and can often be found close to water heaters, sinks and toilets, as well as inside walls and along ceilings in basements. Outside, polybutylene is more often blue, and can usually be found entering through a basement wall to the water meter or the main water shut-off valve. Polybutylene pipe is not to be confused with PEX which is more flexible than polybutylene and can handle higher temperatures.
Image taken from https://www.nachi.org/pb.htm
Replacing polybutylene
To replace an entire polybutylene system, a licensed plumber should be called in to consult on what is involved and to provide an estimate on the cost to replace the PB piping, this could be and extensive project depending on how much of the piping is behind finished walls. However, if you need to make a small repair, or transition to new approve piping for the installation of a new appliance or adding to the plumbing system, then a PB transition coupling can be used to make the transition from polybutylene to the new approved piping.
There are two different types of
transition couplings
: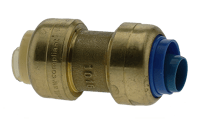 The first is a Brass Push Fit PB Transition Coupling which seals on the outside diameter of the pipe and can connect PB-2110 polybutylene to piping made to Copper tube Size (CTS) which includes Copper, CPVC and PEX pipe. ASSE 1061 Push fit fittings are easy to install and do not require specialized tools for installation.
The Polybutylene end of the transition coupling is blue for easy identification of the P.B. end which has a larger diameter insert or stiffener to support the thinner wall polybutylene pipe. For more on push fit fittings, check out this blog post.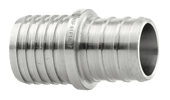 The second is a Crimp type PB transition couplings, this is a ASTM-F1807 barbed insert type fitting to PB2110 Poly B insert x PEX insert. which seals on the inside diameter of the pipe by compressing copper crimp rings onto the ends of the PEX pipe using a special crimping tool. They can only connect polybutylene pipe which has a larger inside diameter than PEX to ASTM-F876 , ASTM F877 PEX piping. PEX pipe is a great replacement option for polybutylene. As mentioned above, PEX is a tougher pipe because it can withstand high temperatures and maintain great flexibility. In addition, PEX is durable and has a long lifespan.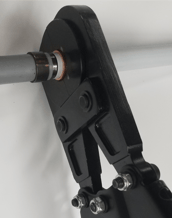 The PB transition coupling is sold as a kit complete with the copper crimp rings, however one can fasten the Poly B and PEX using stainless steel pinch clamps as shown below if desired, Poly B and PEX piping both have the same outside diameter.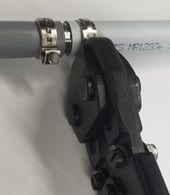 We hope you have learned something both interesting and useful about polybutylene and why it should be replaced. Above all, since a small leak can lead to mold, flooding and expensive damage, it's always better to be safe than sorry. In other words, a replacement now could save thousands of dollars in the future.
Have further questions about this subject?


Head over to Boshart's Knowledge Base: technical product information, guidelines, and more.