Circulator couplings are found on circulator pumps like those used within hydronic heating and cooling systems. The pumps keep water moving through a closed circuit or loop.

In this blog we are going to explore more about what circulator couplings are, 3 different types and how to select the circulator coupling that is right for the pump motor.
What are Circulator Couplings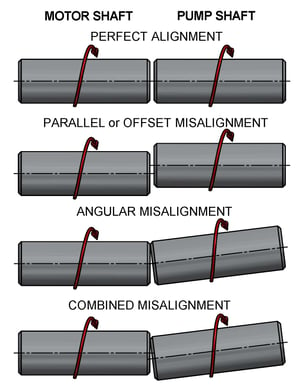 Circulator couplings connect the motor to the pump and allow for the power to be transferred from the motor to the pump. These couplings compensate for several types of minor misalignment between the motor shaft and the pump shaft as shown in the illustration.
Note: if a coupling fails you should check the motor and pump to see if there is a greater issue that caused the coupling to fail. Even though circulator couplings can handle some misalignment, there may be a greater underlying issue that caused the coupling failure. Often the root cause of coupling failure is worn motor mounts causing shaft misalignment, this must be corrected to avoid premature failure of the new coupling.
3 Common Types of Circulator Couplings
There are many different types of circulator couplings on the market, but we are going to cover the 3 most common types.
Cast Iron Four-Spring Circulator Coupling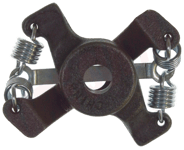 The cast iron spring style circulator coupling is the one that you will find on a circulator pump when it is purchased. They are designed with two cast iron pieces that connect to the motor and the pump and are connected with a rod and four springs. There are many moving parts on these couplings which wear out over time.
Flexible Insert Circulator Coupling

The flexible insert type circulator coupling provides quieter operation. They are similar in design to drive couplings used for larger HP pumps. They are long-lasting, maintenance-free, easy to install requiring no alignment.
Coil Spring Circulator Coupling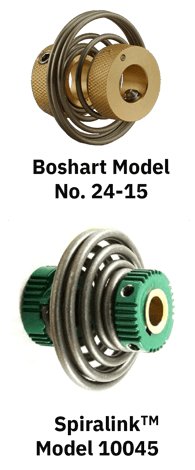 Coil spring type couplings are commonly used as an after-market replacement for the 4-spring cast iron coupling used by original equipment manufacturers (OEM).
Coil spring couplers friction free design dampens vibration and eliminated chatter providing silent operation in both start-up and running modes. The single spring acts as a universal joint with 3-dimensional flexibility that compensates for any degree of shaft misalignment, protecting bearing assemblies from damage by broken couplings, and its flex reduces the torque load on bearings and seals. The one-piece design has no connecting parts to produce the friction that causes noise, wear and eventually failure associated with 4 spring cast iron couplers. Three models of coil spring type couplers can replace up to 24 OEM replacement parts making them a great option to carry on a service truck as they can be used on numerous brands of circulation pumps including B&G (Bell and Gossett), Armstrong, White Rogers, Taco and others.
Coil spring couplers are said to be far easier to install, especially in awkward locations. Once secured to the motor shaft, the coupling can slip onto the pump shaft. Without the need of a third hand to achieve alignment.
Sizing / Selection
Couplings need to be sized properly to both the horsepower of the pump motor and the shaft size of motor and pump shaft. You will find that some couplings are described as for ½" or 5/8" shaft sizes. This is achieved by having a brass insert which reduces the bore size on the coupling connections from 5/8" to ½", when installing on a ½" shaft the brass inserts are left in the coupling to ensure a proper fit to the shaft. The set screws tighten directly onto the shaft through holes in the brass insert. When installing on a 5/8" shaft the installer simple removes the brass insert to use the 5/8" bore size. This provides a more universal coupling to cover a wider range of pump brand / sizes. This is detailed on the circulator coupling cross reference here.
Circulator couplings are one of the many items that are used in boiler / hydronic heating system, additional products of interest include: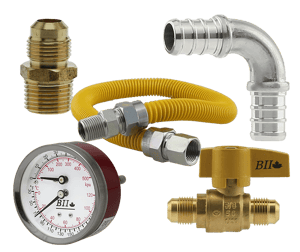 45° Flare Fittings
Flexible Gas Connectors