Insert fittings are available in a variety of materials, sizes and fitting types. They are specifically designed to connect polyethylene plastic (PE) pipe, not hoses. Certain materials include extra long insert adapters for different applications. Insert fittings are not a complicated product but when needing to choose the correct size for installation, it can get tricky.
In this blog, we have included a chart that will make the selection process seamless. We will then take a look at some installation tips and cautions when working with insert fittings.
For a closer look at bronze and stainless steel insert fittings, check out our blogs: 4 Features to Look for in Bronze Insert Fittings & 5 Features to Look for in Stainless Steel Insert Fittings.
Insert Fittings
Insert fittings are designed to be used with polyethylene (PE) plastic pipe that is manufactured to the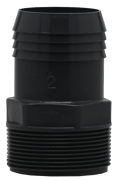 ASTM-D2239 standard. They are available in brass, bronze, stainless steel, zinc plated, nylon, polypropylene and PVC. The insert elbows are designed with a smooth sweep channel that minimizes friction loss that ensures the highest possible flow rates and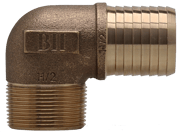 pump efficiency.
The graph below shows the inside diameters of the pipe and which size insert fitting is required.

Insert fittings are typically used with 50, 75 and 100 PSI pipe and other PE pipe with inside diameters (I.D.) that are controlled to these dimensions. You may run into PE pipe that is rated to 160 and 200 PSI. but we recommend that you use pipe certified to CSA B137.1 for potable water systems.
Barb-designed insert fittings for PE pipe are specifically manufactured with a larger diameter as per the above chart. PE pipe has a ridged structure that does not allow for a worm type clamp to properly compress the pipe beyond the original diameter. This is why the insert fittings are purposely designed to force the expansion of the PE pipe when you insert the fitting.
The PE pipe's "memory" causes it to return to its original manufactured diameter, just like an elastic band. When you tighten the clamp around the pipe, the memory helps the clamp form the poly into the barbs, making a positive seal and creating strong pull off resistance.
Installation Tips
Tip #1:
When working in cold weather, it could be very difficult to insert the fitting into the PE pipe. To help with this process, you can heat the pipe by immersing the end in hot water. This will make the pipe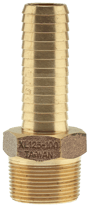 more pliable, easier to insert and much easier to allow the plastic to form around the insert barbs. You must take extreme caution if using a heat gun or torch to ensure you do not damage or degrade the pipe in the process.
Tip #2:
During a submersible pump installation on PE pipe, it is recommended that you use an extra long insert fitting as it includes extra barbs that allow for double clamping to guarantee maximum pull off resistance. Reattaching a pull off on a submersed pump (located down a well which can range from 50' to 500') can become a very expensive fix, so using longer barbed fittings with extra gear clamps are an inexpensive insurance against failure.
Standard insert fittings include 7 barbs and the extra long insert fittings include 13 barbs.
Cautions
It is important to know that these insert fittings are not meant to be used with PE pipe that is manufactured to standards where the outer diameter (O.D.) is controlled. You may also run into 160 PSI PE pipe that is manufactured to copper tubing size (C.T.S.) with an inside diameter that differs from the above values.
Another important thing is to be careful not to confuse insert fittings and hose fittings. Hose fittings are manufactured with smaller barb diameters with poly (PE) pipe which could result in a leaking connection and have little or no pull off resistance.
In Conclusion:
Although insert fittings are notably simple products, the chart, tips and cautions will ensure you are accurately using the insert fittings to their highest ability while also ensuring you don't run into any issues or leaking connections.
Have further questions about this subject?

Head over to Boshart's Knowledge Base: technical product information, guidelines, and more.