When selecting a tank tee, there are many different variables that need to be considered and can easily be found on your tank. Most likely, the answers you are looking for can be found in a manual or on the side of the tank, but there is another factor that will require a little more effort.
Tank tees are available in a short length or long. But how do you know which length your tank requires?
In this blog, we will take you through the measuring process to help you accurately measure your tank tee to ensure you select the right length for your system.
How to Properly Measure your Tank Tee
Ultimately, the dimensions of your tank will vary depending on the make and model, but the below information is universal to simplify measuring the tank to determine the proper tank tee center end length (CEL). This is the most important measurement for the selection of a tank tee. Overall length is not a relevant measurement for tank tee selection.
It is important to ensure the center end length dimension is maintained so that the pressure switch has enough room to rotate without hitting the tank when the switch requires replacement. Failure to maintain this dimension will result in extensive labour if the pressure switch were to fail.
For more considerations before purchasing a tank tee, check out our blog, More Considerations Before Purchasing a Tank Tee.
How to Properly Measure the Minimum Tank Tee CEL (Center End Length)
Center Bottom Connection Tanks
First, you will need to use a form of straight edge. Press it against the wall, perpendicular to the floor. You can then measure the distance from the edge of the connection on the tank to the outside of the tank. See the diagram below.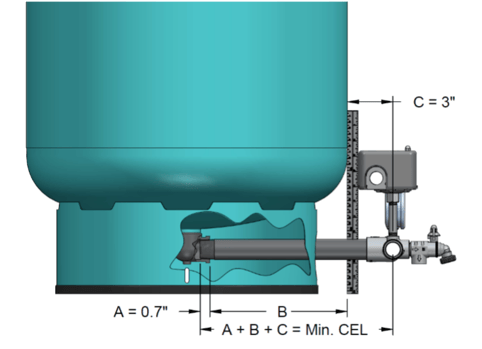 To properly determine the minimum CEL, you will need to add the measurements for "A" (thread engagement), "B" & "C" (minimum distance required). This takes into consideration the swing of the enclosure due to the connection being offset on certain pressure switches. Some pressure switches have larger enclosures with centred connections that require less clearance, this dimension also covers them.
External Connection Tanks
There are a variety of tanks that are plumbed to have the connection extended to the tanks base, they will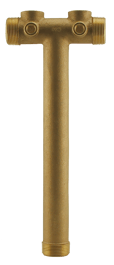 require a 4" or 4-1/2" CEL tank tee.
Other brands of tanks could have the connection extending through the side, sticking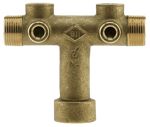 out further than the tank's diameter, which could be a case where a short tank tee would work best. If the CEL is 3" or 3-5/8", there will still be enough clearance for the installation of a pressure switch.
To determine the minimum CEL, you will simply subtract the protrusion dimension "B" from "C" and then add "A" for thread engagement.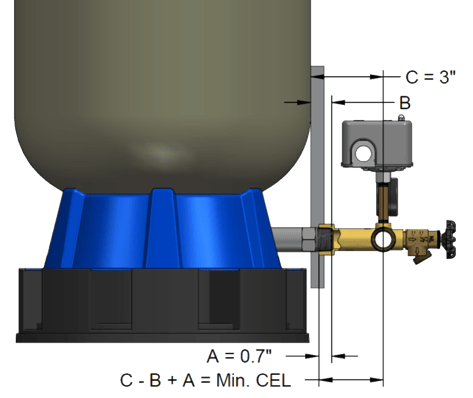 Instead of always having both styles available, some people find it easier to keep pipe fittings available to adapt a short 1" or 1-1/4" tank tee to any make or model of pressure tank, regardless of the tank diameter or connection type. This greatly reduces the chance of not having the proper CEL or MPT vs FPT connection type to fit that specific tank.
Be sure to follow all well construction and plumbing codes in your area as every areas rules will vary.

Most areas call for the drain valve to be either a hose bibb or sediment faucet, but some areas code mandates that you must use a sediment faucet. A sediment faucet is simply a valve that does not have a garden hose thread (GHT).
In Summary:
Be sure to maintain the center end length dimension to ensure that you have a proper amount of room to accurately remove or replace the pressure switch. Keep in mind that you need to follow all well construction and plumbing codes in your area, as every area has different rules.
Have further questions about this subject?

Head over to Boshart's Knowledge Base: technical product information, guidelines, and more.