Boshart has made strong improvements to our newly launched yard hydrants, but there were also some great features that will be staying the same. We received and listened to lots of great feedback on what could be changed to take our yard hydrants from great to excellent.
To know what's changed, check out our other blog: 10 Improvements Made to the Boshart Yard Hydrants.
In this blog, we will go through the 10 features that are staying the same from the original yard hydrants to the new ones. Most of these features may be only slight modifications, but they are still great features to be aware of.
Boshart's 10 Yard Hydrant Features
1. Designed, Engineered & Assembled at Boshart
Boshart has been producing the premium yard hydrant in our facility since 2003 and the new yard hydrants are no exception. Our assembly equipment ensures proper torque with precise alignment of the drain port on every yard hydrant.
2. Built to Last
Our yard hydrants are built to last with a heavy duty casting that has a large flow channel and lengthened handle with ample room to allow comfortable operating.
3. Highest Flow Rates
Having a full flow through inlet with a sweeping bend flow passage in the head casting, all minimizes friction loss to the 3/4" FPT high flow spout outlet.
4. Easy to Adjust
Adjustment is very easy and all you need is a 5/16" open end or adjustable wrench and it will only take around 1 minute!
5. Smooth Operation
The operating rod and draw straps include a smooth vertical motion. There is minimal wear on the operating rod, packing nut and O-rings.

6. Maintained Fully Closed / Fully Open Positions
To ensure that the system pressure forces the handle towards the closed position, it is important to include a cam on the lever that takes the top of the draw straps 5° ahead of the center line. This makes it impossible for the water pressure to open the hydrant.
In the fully open position, the cam on the lever takes the top of the draw straps 3° ahead of the center line, ensuring that the weight of the handle does not try to close the hydrant when you want it to remain fully open.
7. Low Maintenance & Easy to Repair
Boshart yard hydrants include a double O-ring system that seals easily. The casting provides a thick wall area for superior operating rod support.
8. Dual Handle Locking Features
Our yard hydrants include two locking features as standard equipment. The handle can be locked with a pad lock in the closed position to prevent any unauthorized use.
9. All Stainless-Steel Hardware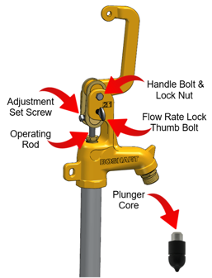 Having all stainless steel hardware allows for a longer life. The handle bolt and nut, set screw, operating rod, and flow rate locking thumb bolt are all stainless steel.
The plunger has a stainless steel core on the inside, it has 3 grooves to ensure the rubber is molded securely to the insert which makes it impossible to pull the threaded metal insert from the rubber under normal operating or repair practices.
10. Quality Standpipe
The standpipe is an ASTM A53 sch. 40 galvanized standpipe that is used on the YHBR series and a sch. 40 304 stainless steel standpipe is used on the corrosion resistant YHSS model.
In Summary:
Boshart has always been producing extremely durable yard hydrants and that is why we are proud to be able to keep 10 features in our newly designed yard hydrants.
Have further questions about this subject?


Head over to Boshart's Knowledge Base: technical product information, guidelines, and more.