Knowing that you require a valve is the first step, and the second step? Knowing what valve you need. The tricky part, there are a variety of valves available, all with different abilities for a wide range of applications. Selecting the correct one for your needs can be made simple if you know exactly what each valve's job is.
We have created this guide that provides you with information regarding the 13 different valves you can find in the industry. We have included what they are, common uses and the sizes, and materials they are available in.
Ball Valves
Ball valves are designed with a spherical disc, which is the part of the ball valve that controls the flow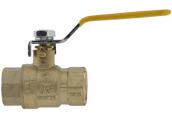 through it. There is a hole in the middle of the sphere so that when the hole is in line with both ends of the ball valve, the flow will occur. When the handle, which is a 90° turn, is moved to the close position, the hole is perpendicular to the ends of the valve, blocking the flow.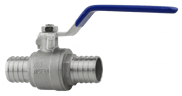 Ball valves are commonly used in locations where a shut off valve is needed. They are also available with different end connections and in multiple materials including stainless steel, brass and plastic. The different end connections available are threaded, C x C, push fit, compression, barbed and PEX.
For a closer look at ball valves, check out our blog: What the Heck is a Ball Valve?
Gate Valves
Gate valves, also known as slide valves, have a linear motion that incorporate a flat closure called a

gate. Gate valves can either include a hand wheel, that requires multiple cranks, that you can turn (counterclockwise) to open or (clockwise) to close, or you will need to push or pull the gate to operate the gate valve.

Both designs minimize the drop in pressure across the valve. When fully opened, the diameter of the opening is the same diameter as the pipe as to which the fluid is flowing and no direction of flow is being altered.
Common applications for gate valves are systems that handle viscous liquids like heavy oil or light grease. They are available in sizes up to 4". For more information on gate valves, check out our blog: When you Should Use a Gate Valve.
Relief Valves
Relief valves are a safety device that prevent pressure from exceeding the maximum allowable working

pressure. The relief valve minimizes the risk of any catastrophic failures and it protects other components of the system. Relief valves are spring loaded which mean they open in response to the system pressure.
Relief valves are typically used in potable water applications and are specifically designed for installation on cold water service lines. They are available in a variety of materials including brass, stainless steel and PVC. To take a closer look at relief valves, we have a blog you can check out: 3 Reasons to Install a Relief Valve.
Plug Valves
Plug valves are an energy efficient, round port, eccentric, quarter turn plug that is designed with a fusion bonded epoxy coated ductile iron body. Plug valves are used in a variety of applications including situations where slurries, solids or grit are present like wastewater and sewage lines and in wastewater treatment plants.
Flo-E-Centric® Plug Valve with Bare Stem, Model 54-B | Flomatic
Sump Pump Check Valves
Check valves allow media to flow through the valve, only in one direction. When the pump is running,

the water flows through the valve, when the pump shuts off, the water naturally wants to flow backward toward the pump. A check valve prevents the water from heading back toward the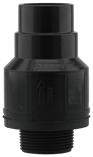 pump by allowing the weight of the water to push down the flapper, causing it to close.
Sump pump check valves are used to pump the ground water out of your home before it would enter your basement. The water is collected in the sump tank and then the sump pump ejects it to a safe distance away from your house.
There are two operating designs: spring loaded, and rubber flapper. Sump pump check valves are available in ABS. We wrote a blog taking a closer look at sump pump check valves. Read it here.
Spring Check Valves
Spring check valves, available in brass, bronze & stainless, have a poppet that hold the spring in place.

When pressure is put on the inlet side of the valve, it forces the poppet to open and the spring to contract. When the pressure subsides, the spring forces the poppet closed. These

types of check valves can be installed both vertically and horizontally.
Spring check valves include NPT (National Pipe Thread) connections on both ends and they are installed directly into the piping system. The main reason to include a check valve in your system is to extend the efficiency and life of your pump.
For further information on check and foot valves, check out our blog: Taking a Look at Check & Foot Valves.
Foot Valves
Foot valves usually have an NPT connection on the outlet side, and on the inlet side, they have a strainer. The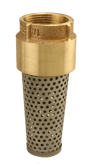 strainer is there to prevent any large debris from clogging up the foot valve when it's open, which would cause damage to the water pump if not prevented. Typically, foot valves are used in shallow well jet pump and deep well jet pump installations.
Similar to a check valve, foot valves prevent water from flowing back out of the jet pump. Foot valves are available in materials such as brass, bronze, PVC, stainless steel and cast iron.
Butterfly Valves
Butterfly valves have a rubber seated design that is providing bi-directional bubble tightness. Butterfly valves are best suited for throttling services and operation after long periods of stagnation. They are availble in a variety of configurations including, gear operated, handle operated and electrical actuated.
Azure® Gear Operated Flanged Butterfly Valve | Flomatic
Air Release Valves
Air release valves are used to vent air that accumulates while the system is under pressure. Including an air release valve, will improve flow and pump efficiency. It is recommended that air release valves are installed on high points of the pipeline and approximately every MINIAIR® Air Release Valve for Clean Water Applications | Flomatic 2000 feet of horizontal segments of the pipe. They are available in sizes 3/8"- 4".
Sediment Faucets
Sediment faucets are valves that are commonly used to provide a way to flush the sediment that builds

up in the unit. It also provides a means to drain the vessel if the system needs service or for winterization in some situations.
These brass valves are available in two different designs: one design, the valve stem and hand wheel are in-line with the inlet connection and the only part angled is the hose bibb outlet. In the other design, the valve body is molded with an angle.
Stop & Waste Valves
Stop & waste valves are mainly used in residential applications where a 1/2" or 3/4" shut off valve is

needed. The valve contains a brass body with either a female thread, solder, PEX or compression connection and a hand wheel that allows you to shut it off.
It is recommended that you include a valve that you can shut off for every appliance in your home incase something needs replaced or repaired. This way you don't have to shut off the water for the entire house.
Constant Pressure Pump Control Valves
Constant pressure pump control valves are commonly found in irrigation applications like golf courses and schools but can also be used in water well pumps for domestic or municipal water. They automatically regulate downstream Direct Acting Constant Pressure Control Valve - Cycle Gard® I C152E | Flomatic pressure while providing constant pressure (regardless of the system water flow) demand until it is no longer required.
Float Valves
Float valves are used to control the level of fluid inside the tank. A float valve has the ability to control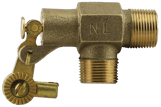 the level by opening and closing the valve when the levels change. A basic float valve includes an air-filled float that is attached to an arm that is sealed to make sure water cannot get in.
Typically, float valves are found in applications in the Agriculture and Industrial industries. But they can also be found in places like aquariums and even the back of your toilet. They are available in brass and PVC and in a variety of sizes.
To learn more about these types of valves, check out our blog: Taking a Closer Look at Float Valves.
In Conclusion:
There are a wide range of valves available, and we hope this guide helps you determine what each valve's best suited application is.
The biggest thing all the valves have in common is the ability to stop & control water flowing in a system. It's just up to you to determine which one fits your system the best.
Have further questions about this subject?
Head over to Boshart's Knowledge Base: technical product information, guidelines, and more.