A sump pump system has many components like check valves and high level alarms. And like most things, there are a variety of different sump pump applications. Since there are many applications and situations, it means there are many choices for the components that you require.
When it comes to check valves, in order to select the correct one, you will need to consider 4 key factors to ensure you select the right one for your situation.
In this blog, we will take a look at all 4 factors, and explain why and when you would want a specific one.
The 4 Key Factors are:
Desired Connection Type
Pressure & Temperature Rating Required
Valve Size & Flow Velocity
Gravity vs Spring Assist (Quiet) Closing Design
1. Desired Connection Type
There a variety of sump pump check valve models available that include various connection types like threaded, barb, slip and flexible rubber couplers. You will also see some sump pump check valves be a flapper type or include compression, slip or true union slip connections.
2. Pressure & Temperature Rating Required
Depending on the pressure and temperature rating you require, the rating may impact the style of valve you need to select.
BSC Series

The BSC Series ABS sump pump check valve has a max temperature rating of 140º F (60ºC). If you choose the flexible coupling style, you should install it with 10 ft. of head room with 4.3 PSI. If the solvent weld type works best for you, install it with 58 ft. of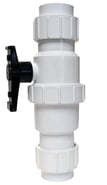 head and 25 PSI.
Combination Style
Combination style sump pump check valves are rated 150 PSI static pressure at 72ºF (22ºC), non shock. They are not recommended for use on systems exceeding 100 PSI at 120ºF (48.8ºC).
Note: End blocking of all compression connections is required to prevent any linear pipe movement or blow off.
3. Valve Size & Flow Velocity
Choosing the valve size is very important and requires you to refer to the pump manufacturers installation instructions. Typically, the discharge piping is equal to or larger than the discharge connection on the pump. If there is a reduction in the discharge piping, it could possibly void the pumps warranty.
Another thing to take into consideration is the velocity at which the water is discharged through the valve and piping. Often velocity is overlooked. If you were to under size, it could result in a flow velocity that is too high, potentially causing damage or failure of the piping and valve due to hydraulic shock or water hammer. On the opposite side, oversizing could lead to a build up of debris, causing water to travel too slowly, not allowing the dirt to flush from the valve components.
Below is a chart that provides the minimum and maximum gallon per minute (GPM) for the piping size to maintain the desirable flow rate between 2 ft. per second (FPS) & 7 FPS.

4. Gravity vs Spring Assist (Quiet) Closing Design
Gravity Closing Type Check Valve:
Gravity closing type check valves can be noisy as the flapper slamming closed every time the flow reserves when the pump stops. This is something to consider when selecting your sump pump check valve.
The gravity closing type valves that Boshart offers are designed with a 15º valve seat that reduces the time and force that the flapper hits the valve seat, eliminating some of the noise compared to other gravity closing type valves found on the market.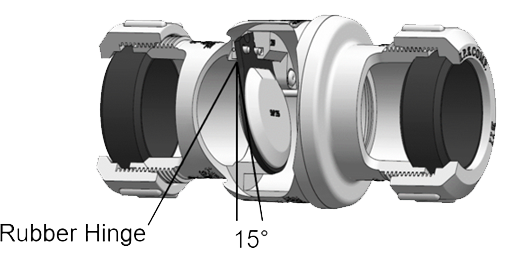 Rubber flapper valves that have a gasket that double seals as the flexible hinge for the flapper are best suited to be used in smaller, low horsepower pumps that have a low GPM rating. A pump discharging 21 GPM at 2 FPS, will assert less strain on the hinge than a high horsepower sump pump that is discharging 73 GPM at 7 FPS velocity. In that case, the fluid will assert a large amount of force onto the rubber flapper. If you have a high capacity pump, selecting a stainless hinge pin type valve is a better choice.
Spring Assist (Quiet) Closing Type:
It is highly recommended to select a spring assist closing type check valve. Although they tend to cost more, they may be worth it. A silent swing check valve is designed with a stainless steel mechanical hinge pin that is more robust and will have a longer life expectancy. The spring closes the flapper as the pump stops, eliminating any flow reversal or water hammer, also closing it silently. By reducing the wear and tear on the valve and piping, you will extend the life of your system. This style of check valve will work well on all applications regardless of whether the pumps horsepower or capacity is high or low.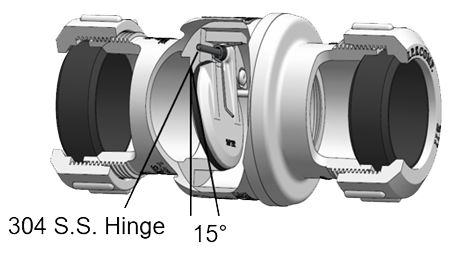 It is important to make sure the check valve installation complies with all applicable plumbing and building codes.
Combination Swing Check Valves
Boshart's combination swing check valves are used in wastewater pumping applications, combining an in-line shut off and back flow prevention. For a closer look at our combination swing check, check out our blog, When to Use a Swing Check vs Ball/Swing Combination Valve.
In Conclusion:
Going through the 4 key factors to consider when selecting a sump pump check valve will ensure you take everything into consideration before making your purchase. Some choices may be easier than others, but having all the information and following all codes is very important.
Have further questions about this subject?

Head over to Boshart's Knowledge Base: technical product information, guidelines, and more.