It's #CustomerServiceWeek! Every year, Customer Service Week takes place during the first full work week in October. To celebrate, we first want to recognize our front-line staff who work in customer service. We want to thank them for all that they do and remind them that they are a vital part of the long-term success of Boshart Industries. In addition, we want to take this opportunity to reflect on the importance of customer service and remind our customers of the value we place on customer satisfaction.
In this blog post, we will outline four ways that we strive for customer satisfaction. We will also address some frequently asked questions that our customer service representatives get asked often.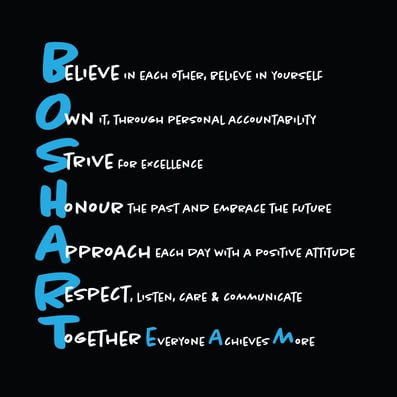 This is what we call the Boshart experience. These are the core values of Boshart Industries.
Approach each day with a positive attitude
Here at Boshart Industries, a core value is to approach each day with a positive attitude. This value extends to approaching every customer interaction with a positive attitude too. With a positive attitude, we set a precedent for the experience and ensure that it is a pleasant experience.
"Starting the day with a positive attitude is something I strive to do. I feel that you achieve more with positivity. A positive attitude throughout your workday helps build a better work environment for everyone around you also."

Wanda Snow, Canadian Inside Sales Representative
Respect, listen, care and communicate
Another one of our core values is to be respectful, listen, care and communicate. We believe that these values are key to ensuring that every Boshart interaction is a positive, valuable and meaningful experience. With every customer interaction, we aim to listen carefully, communicate clearly and concisely, and be respectful and courteous.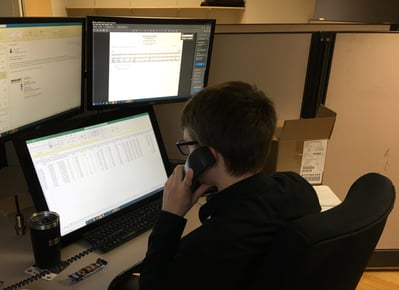 Quality Assurance Analyst Will Bender is pictured here providing technical support to a customer.
Strive for excellence
Another one of our core values is to strive for excellence. We set our goals and standards high to deliver quality customer service, and continuously strive for ways to improve. As a company, our philosophy is to do the little things to make the lives of our customers easier. Boshart continuously strives to exceed customer expectations.
"I set my goals high, and every day, I ask myself… What can I do better today?"

Brenda Hanna, Canadian Sales Manager
Follow up within 24 hours
Here at Boshart Industries, we have a dedicated customer service team providing fast, convenient and live customer support. If, for some reason, we cannot offer our assistance immediately, our policy is to follow up within 24 hours.
Frequently asked questions
Here are some frequently asked questions that our customer service representatives often get asked.
Question #1: What oils can be used with our gauges?
The oil type depends on the application. Glycerine is the most common choice and provides the best performance in most applications. However, if extreme temperature fluctuations are expected, use silicone oils. If the system has electrical accessories, such as contacts, use insulating oils.
Question #2: Do our fittings have CRN approvals?
Many of our pipe fittings and nipples have CRN approvals. Please reach out to your inside sales representative and they will be happy to provide you with the CRN numbers for your specific product.
For more on frequently asked questions, please check out our blog post on QA's 5 most frequently asked questions.
In summary, customer satisfaction is incredibly important to us. Our commitment to providing quality customer service has been and will remain a top priority. Above all, we want to make sure that every Boshart experience is a positive and valuable experience.
How are you celebrating Customer Service Week? Let us know below!
If you have any comments, concerns or feedback for us, please feel free to leave us a comment below or call us at 519-595-4444 or 1-800-561-3164.
Have further questions about this subject?


Head over to Boshart's Knowledge Base: technical product information, guidelines, and more.