Flanges are a simple product that you have most likely ran into before. They can be found any where from plumbing applications to securing a table or shelf to the wall or floor. There are a wide range of flanges available on the market and each one is designed for a variety of operations.
In this blog, we go over the different flanges you could run across in the market, explaining the differences between floor and companion flanges and raised and flat face flanges. Let's dig in.
To get more information on a product used directly with flanges, check out our blog, Ready Cut Pipe.
Companion vs Floor Flanges
Flanges are a coupling device that are designed to join IPS (iron pipe size) piping systems where disassembly takes place often. Flange fittings can also be used as a transitional fitting for joining dissimilar metals and plastic to metal piping.

Companion Flanges
Companion flanges are typically used in pressure applications. The most common types of companion flanges on the market are threaded, socket weld, weld neck, long weld neck and blind.
Threaded
Threaded flanges are very popular in plumbing and structural applications because welding is not necessary during installation and they can be easily reused. GRAINGER APPROVED Pipe Flange: Threaded Flange, 316/316L Stainless Steel, 2 in Pipe Size, 6 1/2 in Flange Outside Dia - 4HVN9|4381006050 - Grainger
Socket Weld

Socket weld flanges are only available in sizes 6" and smaller. They seat onto the end of the pipe, featuring a small lip that presses up against the end of the square cut pipe end. Socket weld flanges require little alignment or holding effort, making them the easiest to install.
Socket Weld Flange (SW Flange) Specification - Octal Flange
Weld Neck Flanges
Weld neck flanges are one of the most popular styles of flanges. This style of flange matches the pipe bevel and thickness (schedule) to allow for a smooth weld. There is also no interruption to the flow. Weld Neck Flange Dimensions (Cl. 150/300/900/1500/2500) - Projectmaterials
Long Weld Neck Flanges
Often referred to as nozzles, long weld neck flanges are often used in boiler applications. They feature thick walls and of course, long welding necks.
Long Weld Neck Flange(LWN), Stainless Steel Long Weld Neck Flanges (micronsteel.com)
Blind Flanges
Blind flanges are a solid plate used to end a line. Using a blind flange to end a line is easily reversible unlike caps or welded plugs, allowing for future expansion.
Class 300 Forged Stainless Steel Raised Face Blind Flanges (apiint.com)
Floor Flanges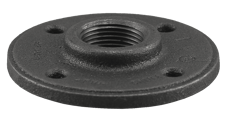 Floors flanges do not use bolts to secure to the floor or wall. They do not have the tightly controlled screw hole pattern that a companion flange has. Floor flanges are lighter in weight and are only used in applications where the piping does not convey a fluid like air or gas.
Floor flanges can be used to secure posts to cement or other materials, they can also be used on walls and ceilings.
Raised vs Flat Face Flanges
There are different types of flange faces that are used as the contact surfaces to seat the sealing gasket material. Commonly, high pressure steel flanges have a raised segment for the gasket sealing face. This is helpful in the sealing process, allowing for more pressure to exert in the tightening process. Flat face flanges do not have this feature.
Raised Face (RF)
This style of flange is the most common, typically used in plant applications and can be easily identified. Raised flanges got their name from the gasket surfaces being raised above the bolting circle face. Raised face flanges use a ring type gasket that is compressed between the raised face surfaces. A raised face flange allows for the use of a wide range of gasket designs, including flat ring sheet types. The purpose for including a raised face flange is to put more pressure on a smaller gasket area, increasing the pressure containment capability of the joints.

Flat Face (FF)
A flat face flange includes a gasket surface in the same place as the bolting circle face. Flat face flanges are frequently used in applications where mating flanges or flanged fittings are made from a casting. Flat face flanges use full face gaskets that are compressed between the entire area of the flange face.
Flat face flanges are never to be bolted to a raised face flange. When connecting a flat face cast iron flange to a carbon steel flange, remove the raised face, you will need to include a full face gasket.
In Conclusion:
Flanges may not be a difficult product to use but there is such a large variety of styles of flanges that it can get confusing which one you need for your specific application. As long as you are aware of the intention of the flange, you can determine which one is your best style and with our help, that process becomes even easier.
Have further questions about this subject?
Head over to Boshart's Knowledge Base: technical product information, guidelines, and more.