What are plastic Twistloc fittings? Plastic Twistloc fittings blend push fit and twist locking technology for a leak free connection. They come in many configurations. Typically, these fittings are used in water supply and heating systems. They are durable, resistant to corrosion and very easy to install.
In this blog post, we will discuss the best applications for plastic Twistloc fittings, as well as their features and benefits. We will also provide some tips for installation.
Plastic Twistloc Fittings
Plastic Twistloc fittings are manufactured from non-toxic lead-free materials. They are certified to NSF 14 and 61 standards for potable water systems. They ensure a leak free connection and provide the solution for the perfect plastic plumbing system. Plastic Twistloc fittings are designed for copper tube size (CTS) piping materials such as copper, PEX and CPVC. They are available in outside diameter tube sizes from 1/4" to 1-1/8".

Image taken from http://www.twistloc.com/?page_id=1331
Types of Applications
Plastic Twistloc fittings are designed for use in residential and commercial plumbing. They are suitable for use in cold and hot potable water supply systems, as well as central heating systems. Since plastic Twisloc fittings can work with a variety of piping materials, they can be used to transition from copper tubing to PEX or CPVC piping.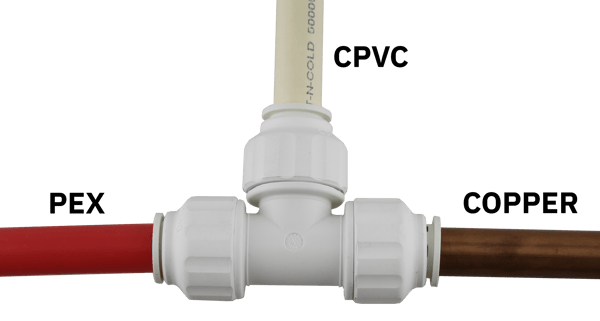 They are ideal for both new installations and repairs. This photo illustrates a repair coupling with an extra-long body to replace a section of damaged pipe. Repairs can be done wet and in minutes!
Features and Benefits
When it comes to plastic Twistloc fittings, there are plenty of features and benefits.
Easy to install
First, plastic Twistloc fittings are lightweight and easy to install. There is no need for special tools or collet locking clips. Simply push the fitting onto the pipe and tighten the nut to lock the fitting in place.
Reusable
Second, plastic Twistloc fittings can be easily removed. To do this, loosen the nut until you hear a clicking sound. Then, hold the collet in against the nut and pull the fitting from the pipe. Before reassembly, the pipe should be inspected to ensure it is free of scrapes. It may need to be cut to obtain a smooth surface for reassembly.

Image taken from http://www.twistloc.com/?page_id=1328
Durable
In addition to being resistant to corrosion, plastic Twistloc fittings are also resistant to temperature and pressure beyond normal operation ranges. The stainless steel gripper teeth bite into the pipe to prevent blow-off. This provides strong gripping for heating systems.
Easy to identify
With Twistloc fittings, it's easy to identify the size, and whether it's locked or unlocked. The color-coded rings allow for easy size recognition. When the fitting is in the unlocked position, there is a visible colored line through the small gap between the nut and the fitting body. When the fitting is locked, the colored line is not visible.
Ideal for use in hazardous locations
Finally, since no heat source or open flame is required, plastic Twistloc fittings can be used for installations in hazardous locations. They also eliminate the risk of fire when flammable materials such as wood or insulation are present.
Installation Tips
Plastic Twistloc fittings must not be used in gas, oil or compressed air applications. They should not come into contact with any chemical or foreign substance such as paint stripers, solder flux, acid based descalents or chemicals.
To ensure a trouble-free installation, tube preparation is extremely important. Do not use a hacksaw to cut tubing or pipe. Always use a pipe cutter for PEX and CPVC piping, and a roller cutter for copper tubing. Make sure the ends are cut square and that all burrs and sharp edges have been removed.

Image taken from http://www.twistloc.com/?page_id=1328
To install, insert the tube into the fitting through the collet, gripper ring and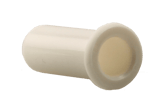 O-ring until it is against the stop in the fitting body. Tighten the locking nut by turning clockwise. For PEX pipe connections, use a tube support insert. A tube support insert, also known as a stiffener, ensures that the PEX pipe retains a round profile for the O-Ring to seal on.
Then, verify that the fitting is in the locked position by ensuring that the colored line is not visible through the small gap between the nut and the fitting body.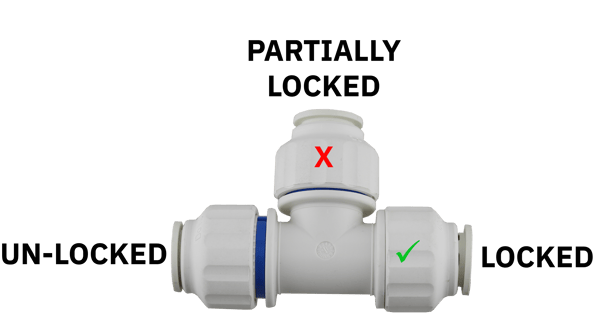 Hopefully, you have learned something both interesting and useful about the applications, benefits and features of plastic Twistloc fittings. Above all, Twistloc fittings are durable, and easy to work with and install. Please feel free to refer to this blog post when working with plastic Twistloc fittings.
Have further questions about this subject?


Head over to Boshart's Knowledge Base: technical product information, guidelines, and more.