When installing a pool for you and your family to enjoy throughout the summer, the accessories you use are important to ensure the pool runs at peak efficiency. But what are all the components you require to properly install an in-ground pool? Having a list of all the components needed makes sure you don't miss anything so that you aren't fixing the plumbing instead of enjoying the pool with family and friends.
In this post, we have dissected each component of a typical in ground pool installation and go through what each components job is and why they are important. Let's jump in shall we?
To explore the different pipe options for pool installations, check out our post, Pool Installation: What Pipe Should you Use?
Typical Pool Installation Components
PVC Unions
PVC Adapters
Expandable Repair Couplings
Compression Couplings
PVC Ball Valves
PVC Single Union Ball Valves
Pressure Gauges
Hose Bibbs
Knife Gate Valves
CPVC Valves
Check Valves
PVC Pool Adapters
PVC Cutters
Safety Rope
PVC Unions
Slip x slip unions can be placed anywhere you would normally use a coupling. Adding a union instead

of a coupling allows you to connect plumbing to inspect the filter for sand and makes servicing or repairing quick and easy.
PVC Adapter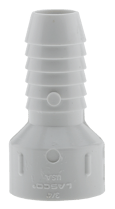 When transitioning from either flexible or rigid PVC piping to poly piping, a PVC insert x socket adapter can be used.
Expandable Repair Couplings
Expandable repair couplings are a slip x spigot design and allow for a simple and permanent solution to repair any broken pipes. Having a double O-ring seal design provides added leak protection against pipe deflection, ensuring smooth movement during installation.
Compression Couplings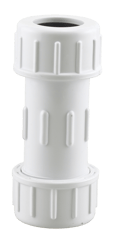 Compression couplings can be used for both repairs and in a variety of pool and spa applications. The gasket provides a 100% maintenance free seal, making it ideal for emergency situations as no solvent is required.
PVC Ball Valves
The seat provides smooth operation and suitable for pool and spa, plumbing, solar heating systems and sand filters. They are resistant to most chemicals and corrosion. PVC ball valves are low cost and extremely simple to use. For more on PVC ball valves, check out our post, The Benefits of PVC Ball Valves.
PVC Single Union Ball Valves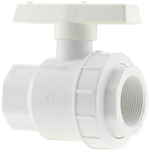 PVC single union ball valves are the most common ball valve found on swimming pool equipment and are designed to last for decades. They are lightweight and compact and this style is easy to open and close and includes a union nut for opening the system during repairs. The O-ring and seats, similar to the PVC ball valves, are resistant to most chemicals and corrosion.
Pressure Gauges
Pressure gauges indicate how the pressure is holding in your pool and accurately measures the pressure inside the filter tank, which steadily increases as the filter takes in more and more debris. A quick pressure gauge tip is, if the pressure of your filter has increased by 8-10 PSI from the starting pressure, you should backwash the filter or clean the cartridge. For more information on pressure gauges, check out, When to Select a Liquid vs Dry Pressure Gauge.
Hose Bibbs
Pressure testing your pool plumbing is important to ensure everything is working correctly. Once the concrete has been poured, you no longer have access to fix any piping or fittings. If no leaks are found during the pressure testing, the chances are pretty good that no leaks will happen later on. Two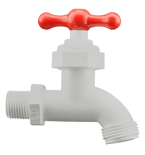 pressure tests need to take place, first the main pool drain then the remainder of the plumbing system.
Main Pool Drain
A pressure gauge and hose bib are attached to what is referred to as a pressure stack. After all the pipes have had time to dry, the pressure test begins by filling the pipes with water and usually pressurizing to 35-40 PSI, this is where you can check for leaks. The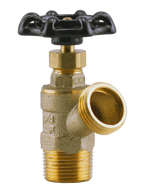 piping from the main drain is tested separate from the other plumbing lines. The typical pressure that the plumbing will need to handle during regular pool operations is between 15-20 PSI, so if the piping can handle up to 40 PSI, 15-20 PSI will not be a problem.
Remainder of Plumbing System
The pressure testing for the remaining plumbing system will also be done using a hose bib and a pressure gauge installed at the pumps. All hose bibs will be left in the open position so water can fill every part of the plumbing that needs to be tested. You will then be able to check for any leaks and fix anything that requires servicing.
Knife Gate Valves or Slice Gate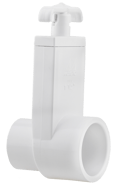 Knife valves are designed to control the flow of a liquid passing through. Knife valves are the most ideal for situations that require quick shut off in pressure or vacuum lines. Typically, knife valves are found being used in hot tub applications where space is limited.
CPVC Valves
Chlorinated PVC valves have much greater heat resistance compared to PVC pipe and valves. CPVC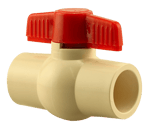 valves are commonly used for the inlet and outlet ports of pool heaters to prevent melting of the pipes. CPVC is typically more expensive so they are usually not used for anything else other than heat resistance in specific areas.
Check Valves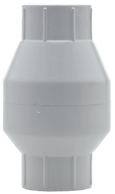 Check valves are a one-way flow valve used in plumbing system to prevent backwards flow of water entering your filter, pump and pipes when the pump shuts off. Check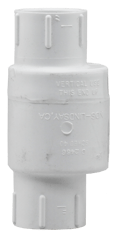 valves used in pool applications can become clogged or broken over time. Some check valves are repairable but other check valves like sealed PVC check valves are only replaceable. Different types of check valves that can be used in pool installations are spring check valves, ball checks or swing checks.
PVC Pool Adapters - Ribbed Spigot
These adapters are backwash fittings and they connect the backwash hose to your pool filter. Typically used for standard above ground pools to connect your pump and water return fitting for use with clamp style hosing.
PVC Cutters

PVC cutters with blades are forged from long lasting, high quality Stainless Steel. PVC cutters are multi purpose cutters designed to quickly cut through the thin wall of PVC, poly pipe, hosing and tubing.
Safety Rope
Safety rope can be used in pool installations to rope off sections of your pool. It can be used to rope off the deep end to separate the pool if you have young children using the pool to ensure they stay in the shallow end of the pool. The rope is waterproof and float-able making it perfect for pool applications. To take a closer look at safety rope, check out, All About the Different Types of Safety Rope.
Each component plays a vital role in the installation process. Keep this list handy to ensure you haven't forgotten anything to properly install your pool the first time, making more time for you and your family to enjoy.
Have further questions about this subject?


Head over to Boshart's Knowledge Base: technical product information, guidelines, and more.