Yard hydrant leaking or plunger stuck? Not to worry. There is no need to replace your entire yard hydrant. Replacement parts are available for all components on a yard hydrant, including the head casting, plunger and even something as small as a stainless steel screw.
In some cases, replacement parts are interchangeable, but in some instances, the parts are not interchangeable.
In this blog, we go through the processes of removing and replacing your rubber plunger assembly if its leaking or in the rare event that the rubber has separated from the core. We will also explain the importance of determining which parts are universal and which are not.
To find out exactly what a yard hydrant is and common uses for them, check out our blog, How Yard Hydrants Work and Common Uses.
Replacing a Plunger with a Dislodged Rubber
Even though it is very uncommon, the plunger rubber could separate from the stainless steel core. If this were to happen, a new plunger is needed. But no need to panic, replacement plungers are available and the removing process is simple and straight forward.
The plunger in your yard hydrant is made up of a stainless steel core that is covered by rubber,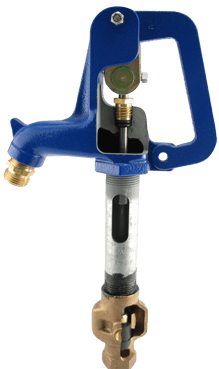 creating a secure seal.
First, you will need to remove the head cast assembly by following yard hydrant repair instructions. When the head assembly, connecting rod and plunger rod are pulled from the stand pipe, the rubber should be free. It can also be flushed out by turning the water supply on at full force.
Then, weld a screw to a rod coupling and attach the tool to the plunger rod. By lowering the assembly down into the hydrant stand pipe and then into the valve body, it should screw into the stuck plunger rubber by rotating it clockwise. Once the screw is through the rubber, you can slowly pull up on the rod, removing the plunger rubber from the stand pipe.
Now that the rubber has been removed, you can install the new plunger assembly into the connecting rod for reassembly.
Finding the Correct Replacement Plunger
Before you can properly replace the stuck plunger with a new one, you need to determine what

plunger you require for you specific yard hydrant. But how do you do that?
Years ago, the plunger had a brass core. It has since been changed to a stainless steel core that

includes a flow divert tip. When you remove the plunger from your hard hydrant, you may find a brass plunger, but no matter which material plunger you find, they are universal.
The only yard hydrant that has a specific plunger is the YHS series standard yard hydrant. Boshart carries the replacement plunger and the replacement parts kit for this particular yard hydrant.
Replacement Head Castings
It is important to know that you cannot replace the head casting of your yard hydrant with another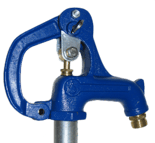 head casting from a different series of yard hydrants. The components are severely different and even if you were able to find a way to make it work, you would be setting up yourself for serious problems to arise further down the road
when you would need to replace a part. As you can see in the pictures, the two head castings have a lot of differences.
To properly select the replacement parts you need for your yard hydrant, you will need to properly identify the logos and markings found on the head casting. This is the same step for all brands and models of yard hydrants in the industry. Another reason why it is important not to mix-and-match head castings.
In Conclusion:
Be sure to be aware of what parts are interchangeable and what are not. This will ensure you do not run into any problems in the future.
We have a blog that includes pictures and in depth instructions on how to properly and accurately adjust, repair and replace a variety of parts on your yard hydrant. Be sure to check it out if you have any questions.
Have further questions about this subject?
Head over to Boshart's Knowledge Base: technical product information, guidelines, and more.