Ever need to cut PVC or ABS pipe? Grab a pipe cutter to make the process smooth and easy. Pipe cutters are simple to use and can be used to cut an array of pipe, hose or tubing. Created with a high quality steel blade that actually is easy to replace; pipe cutters are a staple in any tool box. With our help, you will be given the knowledge to successfully choose the correct pipe cutter for your application and learn how to properly and safely use it.
Throughout this blog, we will touch on the different materials that require the use of a pipe cutter, the variety of pipe cutters available and some tips and cautions to guarantee a stress free process. Let's get started.
What Material can a Pipe Cutter be Used With?
Pipe cutters have a wide range of material that they have the ability to cut through including:
PVC Pipe
CPVC Pipe
ABS Pipe
Poly Pipe
PVC Hose
PVC Reinforced Hose
Rubber Hose
Poly Tubing
PEX Tubing
Variety of Pipe Cutters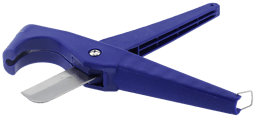 1" Pipe Cutter: Plastic Handle
Plastic handled pipe cutters are specifically designed to handle thin wall pipe, hosing and tubing. They have long lasting steel, creating a blade that is sharp and holds it's edge longer to ensure clean and precise cuts. A stainless steel spring provides a quick and easy opening. 28-PCP-0110
1" Pipe Cutter: Metal Handle

This more robust metal handled pipe cutter effortlessly cuts through poly, ABS, PEX, PVC (Sch.40) with a ID of 1" and rubber hose. The durable cast metal body allows for a straight 28-PC-0110 cut with a simple squeezing action. The metal handle pipe cutter includes a latching handle for safe storage in the closed position and includes a reversible replaceable blade.
Needing to make a copper crimp ring PEX connection? Check out our step-by-step blog here.
Cutting Tip
The cutting action is produced by lightly rotating the cutter on the pipe while squeezing gently on the handles. Once you have used this technique a couple of times, you will be able to make clean, straight and fast cuts. This rotating action does not necessarily need to be used when working with rubber hose or soft tubing.
1-1/4" Pipe Cutter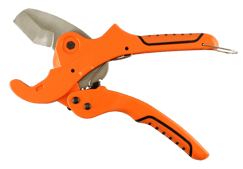 The 1-1/4" pipe cutter has a durable cast metal body and is very reliable for straight cuts using a smooth ratcheting action. This pipe cutter easily cuts through PVC, Poly (PE), ABS, PEX, CPVC pipe or conduit.
This pipe cutter includes a quick release thumb lever for opening the blade with ease. If the blade becomes dull or cracked, the blade can be easily 28-PC-0112 replaced saving you from needing to purchase a new pipe cutter.
2" Ratcheting Pipe Cutter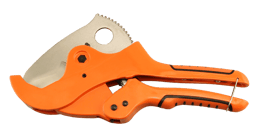 Just like the 1-1/4" pipe cutter, the 2" pipe cutter has a cast metal body that is reliable for smooth cuts. It also shares other similarities as the locking handle and high quality stainless blade. The 2" pipe cutter has a rubber handle for optimal grip during operation. This pipe cutter is equipped with a point on the blade to easily and 28-PC-0120 effectively pierce through the pipe wall providing a straight cut with minimal distortion of the pipe. Not all pipe cutters found in the industry include features that this pipe cutter includes, something to keep in mind when selecting a pipe cutter.
When using the pipe cutter in cold weather, it is advised that you heat the pipe in lukewarm water prior to cutting to ensure the pipe does not shatter during the cutting process. Once the pipe has been cut, it is recommended that you apply rust proof oil to the cutting blade before storing.
In Conclusion:
Pipe cutters can cut through a large collection of materials and thickness, depending on the pipe cutter you choose of course, ensuring there is a pipe cutter available for any situation. This blog can help you decide which pipe cutter is best suited for your specific applications. It will also be helpful to keep in mind the cutting tip and the caution as it may come in handy.
Have further questions about this subject?

Head over to Boshart's Knowledge Base: technical product information, guidelines, and more.