So you're looking for the best pressure switch possible for your plumbing system? We are here to tell you that it might not be what you think it is. Boshart pressure switches offer a variety of custom improvements that set us apart from our competitors. In this blog, we will go over the 10 advantages that make a Boshart PS02 series pressure switch the superior choice. For more in depth information on our pressure switches head over to Boshart's Knowledge Base.
You can also watch the video below that highlights the 10 different features. If you are looking for more in depth information, read the blog below or head over to Boshart Knowledge Base and check out the article called What 10 Features Make the Boshart PS02 Pressure Switch the Best Choice?
10 Features of the Boshart ps02 series pressure switch
1. Super Strong Back Plate Connection
Our switches are made with a custom design process that welds the hex connection to the metal flange around the perimeter of the hex. This results in a connection that is 250% stronger compared to other imported brands.
2. Superior Electro Plating
While other imported switches use Hexavalent Chromium IV plating, Boshart has been using Trivalent Chromium III plating since 2010. Salt spray testing has proven this plating provides much greater corrosion resistance! It is also RoHS approved and it is not harmful to the environment or the plating factory workers.
3. Double Threaded Engagement for Terminal Screws
It is typical to find terminal screws on an imported switch that have minimal thread engagement. This can result in a significant number of stripped threads. However, with a Boshart pressure switch, the terminal screw lugs are punched into a die that actually forms the metal into a funnel shape. This allows for almost double the thread engagement. With this improved design we have had zero reports of stripped thread.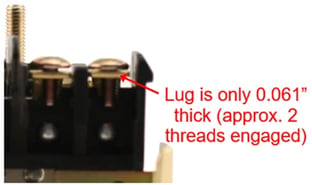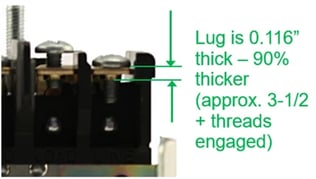 4. Longer Terminal Screws
By giving you 30% more length compared to other imported switches we have designed a switch that actually reduces the chance of the screws being turned out accidentally while adjusting it. It also gives you the ability to raise the screw higher, making the insertion of the pump cable wire under the screw head much easier.
5. Terminal Block Design That Secures Wires
In a standard imported pressure switch, the terminal block is recessed on both sides which allows the wires to easily slip out. However, with a Boshart pressure switch, the terminal block dividers are straight up on the right-hand side of each terminal screw. This ensures that the wire is secure so it cannot pop out.


6. Terminal Block Design That Provides Greater Clearance for Conduit Fittings
Boshart pressure switches come with a custom design that allows for the terminal block to give ample clearance around the conduit openings. This allows all types of conduit fitting jam nuts to be installed without hitting the terminal block.
7. Fail Proof Cover Cap Nut System
On a typical imported switch, you might notice that their cap nuts are press fit into the cover. The main concern with this is that minimal pressure can cause them to pop loose and become lost. With our custom design, the cap nuts are actually machined with a groove and a mechanical internal tooth retainer ring is press fit over the cap nut to securely fasten it into the cover.
8. Raised Adjustment Nut for Easy Pressure Setting
In a typical imported switch, the adjustment nut is recessed into the cupped washer. This makes it very difficult to adjust as it can easily slip on the rounded edges. The Boshart pressure switch has been designed to include a spacer to raise the adjustment nut up out of the recessed cup washer. This has eliminated the slipping issue making it easier for you to adjust.
9. No Lead Certification Logo Covers
Many imported switches are not actually no-lead certified. Most imported switches won't even label the switches if they are. This makes it very hard for inspectors. Not only are Boshart pressure switches No Lead Certified, but the marking is easy to see in the middle of the cover. We also label all of the auto-off and low pressure cut off switches so they are easy to identify.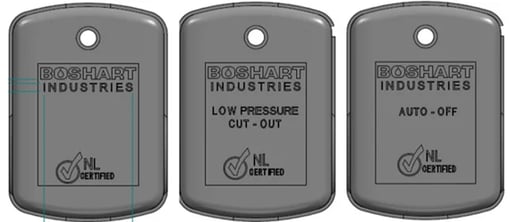 10. A Large Interchangeable Name Plate for Private Labelling
Typically, an imported switch, has a very small area for logo imprinting, making private labeling difficult. With a Boshart PS02 pressure switch, we leave a 1-3/4" wide x 2-1/8" high area for private labeling giving you more flexibility and space.
In Summary:
The 10 advantages we've outlined in this video prove that the Boshart PS02 series pressure switches are the superior choice compared to imported alternatives. These switches not only offer unmatched reliability, precision, and versatility but also boast a range of features that cater specifically to the demands of your plumbing applications.
If you want to learn more in depth about our PS02 series pressure switches head over to Boshart Knowledge Base and check out the article called What 10 Features Make the Boshart PS02 Pressure Switch the Best Choice?
Have further questions about this subject?


Head over to Boshart's Knowledge Base: technical product information, guidelines, and more.