Do the plumbing and water well parts you buy have organizational certifications guaranteeing their quality?
Do you care if they do?
In general, most plumbers and contractors might know that "certifications are good", but really don't understand why they are so important, and why they should be more informed about the quality of the products they source for jobs.
At Boshart, we have a Quality Assurance department (different than a Quality Control department—read about it in our blog here) that focuses entirely on guaranteeing the quality of the products that bear our name.
For a look at the different tests our QA department performs daily, check out our blog, 20 Quality Assurance Tests we Perform on our Products.
WHY DO CERTIFICATIONS MATTER?
Certifications on products allow a contractor or plumber to know at a glance that the product they're selecting has been tested to strict standards to ensure it's consistency and quality in use.
Plumbers and contractors know better than anyone that certain materials will fair differently in certain circumstances, so the selection of the right product is often critical in the success or failure of an installation.
But merely knowing which product to choose is not the same as knowing that product is true to what you think you're buying. This is where certifications come into play.
Obtaining certifications is a very intense, laborious, and expensive process to undertake. There is very little wiggle room if a product is not up to standards. This is why, among countless other reasons, contractors and plumbers can take great confidence in a product that is certified to certain standards.
LARGE INVENTORY = LARGE CHALLENGE
Here at Boshart, we have over 15,000 product SKUs in our inventory, making it quite involved to ensure the quality of each batch across the board. However, our team doesn't shy away from this challenge, but instead we address it head-on.
When it comes to having our products certified, Boshart has three different categories that our products fall into, all of which ensure the confidence of our customers.
Here are the 3 groups of certifications our products fall under:
GROUP A: THIRD PARTY CERTIFIED TO INDUSTRY STANDARDS
Boshart is proud to share that we have products with certifications from and/or made to standards by these different organizations and governing bodies such as:
Underwriters Laboratories (UL)
American Society for Testing & Materials (ASTM)
National Sanitation Foundation (NSF)
International Association of Plumbing & Mechanical Officials (IAPMO)
American National Standards Institute (ANSI)
American Society of Mechanical Engineers (ASME)
American Society of Plumbing Engineers (ASPE)
Canadian Standards Association (CSA)
United States Environmental Protection Agency (EPA)
And many others.
With these certifications, these third-party organizations perform their own separate testing that ensure our products meet or exceed requirements.
The certification body also regularly conducts factory audits and performs tests to ensure compliance.
As required, we purchase and make use of various manufacturing standards to ensure we are always up to date on certifications, as these standards are continually updated. The Boshart library of certification manuals helps us in development of existing and prospective products.
The process to obtain certification is quite intense, so we are proud of all products we manufacture that bear proper certification.
GROUP B: PRODUCTS MADE TO INDUSTRY STANDARDS
Just because a product of ours may not contain an official organizational certification, it does not mean that we do not still manufacture and test various products up to these industry standards.
Note: Many manufacturers will utilize wording like, "Made to _____ Standards" or "Adheres to _____ Standards" which does not mean that they are certified by the referenced governing body. What this means is that the manufacturer has done their own testing and claims that it abides by standards, but no external testing has been done to guarantee success. Proceed with Caution.
When Boshart encounters manufacturers that have similar claims as above, we still perform our own product testing to ensure that the given product meets or exceeds the minimum specifications as defined in the standard.
VOLUNTARILY MEETING STANDARDS
The real difficulty with manufacturers that make these claims is that they only need to meet standards voluntarily. In this instance, the penalty for a non-conformance cannot be upheld on the basis of meeting these standards. In the instance that a particular product meets some of, but not all of, the given standards, it is Boshart's responsibility to agree to still accept the product, or work with the supplier to correct and non-conformance, but some suppliers are more resistant to change than others.
GROUP C: PRODUCTS WITH NO INDUSTRY STANDARDS
With no official, third-party testing being performed on products with absolutely no industry standards, this group of products—by far—becomes the most challenging to control. Because suppliers do not even need to uphold industry standards they claim to meet, it really becomes the responsibility of Boshart to partner with only the best suppliers, and to perform frequent and in-depth testing.
In this instance, Boshart goes as far as to develop our own product standards—with minimum and maximum allowable measurements, alloy tolerances, etc.—and utilize them as benchmarks for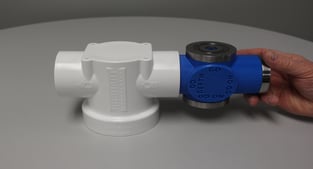 whether a product is conforming or not.
Boshart develops many of our own GO/NO-GO gauges in-house that we utilize to make audits consistent and quick. This allows us to conduct tests on every production lot that comes through our doors.
In certain instances, Boshart measures as many as 42 critical dimensions for a given product to ensure that it meets every standard.
After reaching decisions on manufacturing standards that we expect from our suppliers, it is not uncommon that we would provide specialized sets of gauges and testing equipment directly to our supplier so that they may perform their own quality tests before shipping their product to us. Nonetheless, we still perform our own measurements to see if they align.
REGULARITY OF AUDITS
Utilizing our Enterprise Resource Planning software (ERP for short), we track products in 4 key ways to help us ensure consistent quality assurance checks are performed based on the criteria the product meets. By using a very in-depth part number system within our ERP, we are able to create very specialized audit schedules based on the following criteria.
Those four ways we track issues are:
By Supplier – Most often utilized when a supplier provides a small scale, specific product
By Supplier's Product Group – Typically designed for our Packaging and Assembly departments
By Part Number – The heart of our system; utilized based on sales data, compliance history, and more
By Purchase Order – Particularly useful for changes in products or labelling by Boshart
Because every suppler, product group, part number, and purchase order is different, we employ unique schedules based on what makes the most sense for each category. This has allowed us (in some areas) to expand the scope of products inspected by 56.24% while increasing efficiency by as much as 19.94%.
When an item is flagged for Quality Assurance (at the point of Receiving), it is placed in a virtual quarantine where only an authorized Quality Assurance personnel can release it to the warehouse to be stocked and utilized. This helps us ensure that nothing slips through the cracks.
IN CONCLUSION
Quality Assurance is one of the most important departments here at Boshart, and to consider that many suppliers or distributors do not even have quality control departments is something we find difficult to believe. Quality Assurance is absolutely integral to our success as a company.
We take our reputation very seriously, because we want our customers to have the best possible experience with every product that they purchase with our name on it.
William Adelbert Foster is quoted as saying, "Quality is never an accident; it is always the result of high intention, sincere effort, intelligent direction and skillful execution; it represents the wise choice of many alternatives," and we couldn't agree more.
As you can see, we put a ton of effort into ensuring quality, because we know that our product line is only as strong as our weakest product. "Quality is not an act, it is a habit" Aristotle has said. And we're insistent on making it our habit.
Have further questions about this subject?

Head over to Boshart's Knowledge Base: technical product information, guidelines, and more.