Plastic PEX fittings, molded from Polysulfone (PPSU) are very common in both Crimp and Cold-Expansion types. Plastic fittings offer some advantage over brass in certain corrosive water conditions. In this blog, we will focus on the two main differences between Crimp and Cold-expansion plastic fittings.
#1 – They utilize different fastening, installation methods and tools.
#2 – They differ significantly in flow passage open area.
Flow Passage Open Area of Plastic Pex Fittings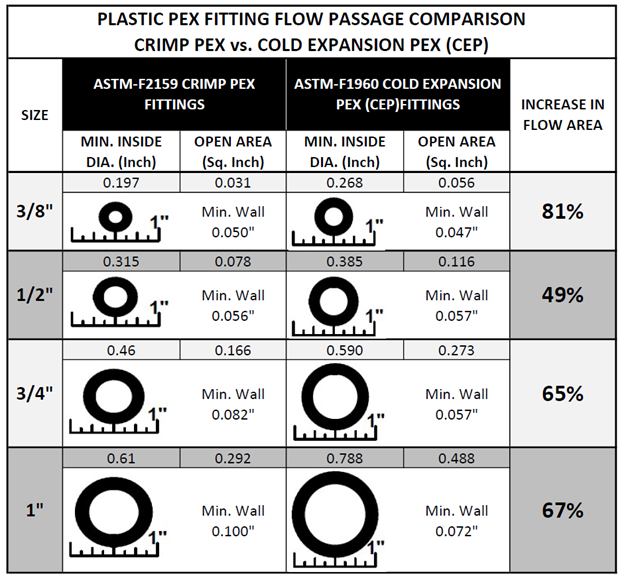 Crimp (F2159) Plastic PEX Fittings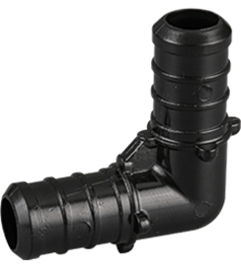 There is confusion regarding crimp PEX standards, since there is a different standard ASTM 2159 for plastic and ASTM 1807 for metal. This is because the plastic standard requires a thicker wall than metal PEX fittings.

This is a very important aspect to understand on Crimp fittings. Plastic Crimp Fittings have a smaller ID than other materials which increases flow restriction and has a negative effect on flow rate.

While plastic Crimp PEX fittings are cheaper to purchase than Brass or Stainless Pex, the fact that you will be restricting flow in some way can be a reason to select metal fittings, unless there is another reason you cannot. For example, if you are on a water system that has water quality issues, Brass may be susceptible to corrosion and eventual leaking. This is a situation where plastic or Stainless may be a better option.
Cold-Expansion (F1960) Plastic PEX Fittings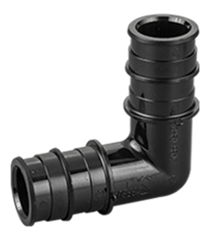 Unlike Crimp, Cold-Expansion fittings are made to standard ASTM F1960 which covers both plastic and metal fittings. The flow passage requirements are very similar between plastic and metal fittings. Plastic fittings either exceed or are within 2% of the metal fitting minimum inside diameter dimension depending on the fitting size eliminating flow restriction concerns.

Since flow restriction is not an issue with Plastic Cold-Expansion fittings they are much more common than Plastic Crimp PEX fittings. Metal Cold Expansion fittings are often selected when a threaded fitting is needed. Stainless Steel CEP PEX Fittings would also be a good alternative in this situation due to their high strength, reducing the risk of cross threading or stress cracking. In addition, they also solve both the corrosion and flow restriction problems.
Installation of Crimp (F2159) and Cold-Expansion (F1690) Plastic PEX Fittings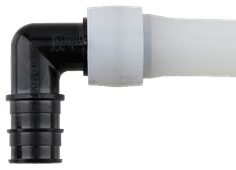 The main difference between these two fitting types is the way they are installed and the pipe that is used.

Cold-Expansion is installed by expanding the pipe (PEX-A) and collar which is installed over the end of the pipe using a power expansion tool. Manual hand tools are also available for small jobs. When the pipe and collar are expanded the fitting is inserted and held in position for a short duration allowing the pipe and collar shrink back down to create your connection.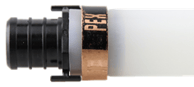 On the other hand, crimp fittings are installed using a copper crimp ring that goes on the outside of the Pipe (PEX-B or PEX-C). The connection is secured using a crimping tool that compresses the copper ring. For a more detailed understanding of how to install crimp fittings, see our blog here.

Crimp fittings can also be installed with a Stainless pinch clamp which requires a different tool than crimp rings. For more information on how to use a Stainless Pinch clamp to Install Pex Fittings, see our blog here.

If you are looking to use plastic PEX fittings, there are some significant differences between Crimp and Cold-Expansion PEX. Each is made up of the same material, so the main considerations for deciding are based around how important flow rate is to you, and secondly what tools you have available to install as specific tools are needed for each fitting type.
Have further questions about this subject?

Head over to Boshart's Knowledge Base: technical product information, guidelines, and more.